Find what you are looking for
Need help?
Questions?
We will be glad to help you
Contact us
Ambramicina Drying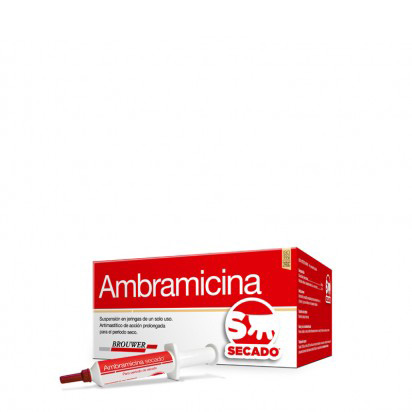 Description

Antimastitic antibiotic to be used for drying.
For cattle.
Syringe.

Formula

Cloxacillin ………………………………………………………….…….  500 mg                                                                                                                                                           Oil vehicle sufficient quantity for one syringe ……………….…10 mL

Indications

Prescribed to control mastitis produced by the following germs:

Gram positive bacteria: Staphylococcus aureus (even penicillin-resistant strains), Streptococcus agalactiae. S. uberis. S. dysgalactiae, Corynebacterium pyogenes. Clostridium perfringens. C. pseudotuberculosis, Bacillus anthracis.
Gram negative bacteria: Neisseria spp.

Package

Package with 24 and 120 10-ml syringes.