Find what you are looking for


Need help?
Questions?
We will be glad to help you
Total Calcifier PG Powder
---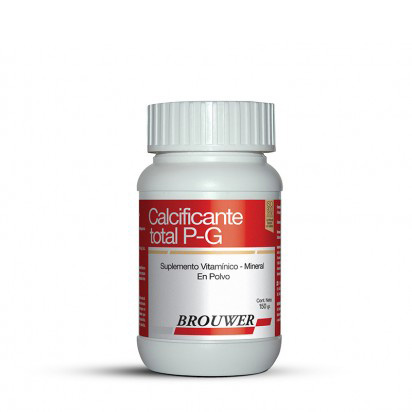 Description

Vitamin-mineral supplement.
For dogs and cats.
Powder and drops.

Formula

A) Minerals:

Calcium carbonate……. 97.713 g

Calcium iodate…………… 0.011 g

Magnesium sulphate….. 2.200 g

Copper oxide…………….. 0.041 g

Manganese oxide……….. 0.035 g

B) Vitamins:

Vitamin A……. 1.000.000 I.U.

Vitamin D3 …….. 100.000 I.U.

Vitamin E………………….. 5 mg

Proper vehicle q.s…….. 100.0 mL

Indications

It corrects calcium balance: phosphorous intake, when food is based on meat, grain and vegetables in growing animals, pregnant and lactating females and adult and senile dogs and cats.
It corrects calcium deficiencies by removing and the clinical signs and preventing the appearance of fibrous osteodystrophia, osteoporosis and puerperal tetany.

Package

Container with 150 g plus dropper containing 20 mL.
Registered in
Argentina
Bolivia
Ecuador
Paraguay
Uruguay