Find what you are looking for


Need help?
Questions?
We will be glad to help you
Totalcoc
---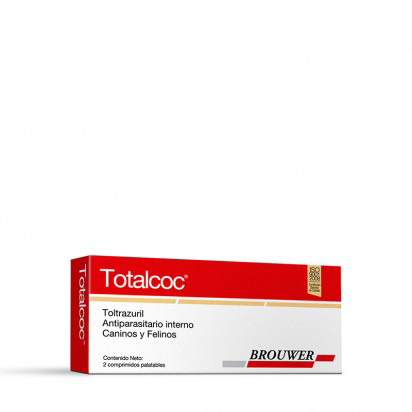 Description

Internal antiparasitic for treatment of coccidiosis and other parasitic diseases caused by protozoa.
For dogs and cats.
Palatable tablets.

Formula

Each tablet contains:

Toltrazuril…………………………………….. 80 mg
Excipients q.s. ……………………..,,……. 400 mg

Indications

For treating parasite infestations caused by the genus Isospora spp., acting against all intracellular stages of this parasite. Dogs and cats may be affected by the following species: I. canis; I. ohioensis; I.burrowisi; I. neorivolta; I. rivolta.

It also acts on other protozoa, and is useful in the treatment of Hepatozoon canis, Toxoplasma gondii and Neospora canis (Hammondia heydorni) acting on these parasites in the schizogony and gametogony stages.

Package

Package containing 2 palatable tablets.
Registered in
Argentina
Bolivia
Ecuador
Mexico
Paraguay