Find what you are looking for


Need help?
Questions?
We will be glad to help you
Neo Dimetrogin
---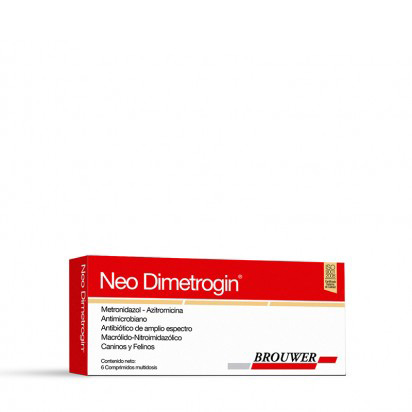 Description

Broad spectrum antimicrobial.
For dogs and cats.
Multi-dose tablets.

Formula

Each  tablet contains:

Metronidazole ………………………………………………. 250 mg
Azithromycin ………………………………………………… 100 mg
Excipients q.s. ………………………………………………. 600 mg

Indications

Treatment of infections of the digestive tract and oral cavity such as: gingivitis, periodontitis, pulpitis, abscesses, and the control of dental plaque and halitosis.

It is also indicated in for prophylaxis and metaphylaxis of bucco-dental surgery (pre and post-surgical use) and gastrointestinal bacterial infections.

Its broad spectrum makes it possible to treat infections of the pharynx, salivary glands, soft tissues, glandular tissues, mastitis, metritis, balanitis, balanoposthitis, vaginitis, and all infectious processes caused by bacteria susceptible to metronidazole and azithromycin. .

Package

Package containing 6 multi-dose tablets.
Registered in
Argentina
Guatemala
Mexico
Paraguay
Peru
Uruguay