Find what you are looking for


Need help?
Questions?
We will be glad to help you
Artrin Plus
---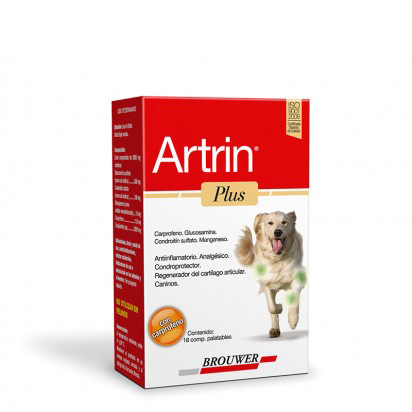 Description

Analgesic, anti-inflammatory, chondroprotector and articular cartilage regenerator. It reduces inflammation and pain.
For dogs.
Palatable tablets.

Formula

Each tablet contains:

Carprofen ………………….. 110 mg
Glucosamine sulphate ……. 500 mg
Chondroitin sulfate ……….. 100 mg
Manganese ………………….. 10 mg
Excipients q.s. ……………. 2000 mg

Indications

For treatment of serious degenerative joint diseases both at their initial stage and at any time there is a pain increase: arthrosis (primary and secondary), arthritis, osteochondroarthrosis, spondylosis, ankylosing spondyloarthrosis and joint and tendon degeneration processes.

In situations of joint immobilization due to bandages, surgery or other reasons.

Initial treatment in intervertebral disc calcification.

In animals with articular wear due to heavy exercise, overweight and old age.

Package

Package containing 18 palatable tablets.
Registered in
Argentina
Colombia
Ecuador
Guatemala
Honduras
Mexico
Paraguay
Uruguay