Find what you are looking for


Need help?
Questions?
We will be glad to help you
Meltra Plus Palatable
---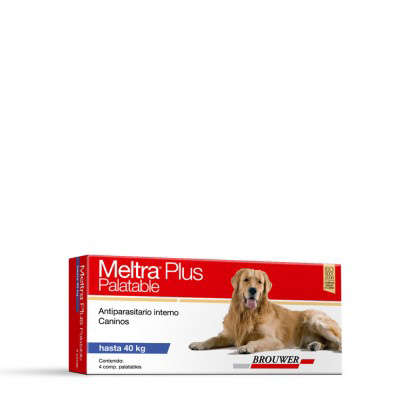 Description

Internal antiparasitic for the control of intestinal nematodes and tapeworms.
For dogs.
Palatable tablets.

Formula

Each tablet contains:

Albendazole …………………………………… 900 mg
Praziquantel …………………………………….. 50 mg
Excipients q.s. ………………………………. 2000 mg

Indications

For the control of the following dog parasites:

Nematodes: Toxocara canis, Toxascaris leonina, Ancylostoma caninum, Uncinaria stenocephala and Trichuris vulpis.
Tapeworms: Echinococcus granulosus, Dipylidium caninum, Taenia hydatigena, Multiceps multiceps, Taenia serialis, Taenia pisciformis and Mesocestoides corti.

Package

Package containing 2, 4 and 6 palatable tablets.
Registered in
Bolivia
Chile
Colombia
Costa Rica
Dominican Republic
Ecuador
El Salvador
Guatemala
Honduras
Lebanon
Mexico
Nicaragua
Panama
Paraguay
Peru
Uruguay
Venezuela