Find what you are looking for


Need help?
Questions?
We will be glad to help you
Dexaflox
---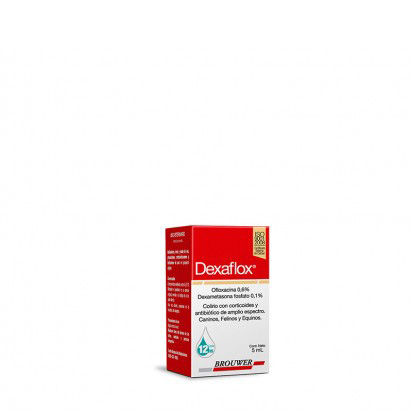 Description

Eye drops containing a broad-spectrum antibiotic and corticosteroids.
For canines, felines and horses.
Drops.

Formula

100 mL contain:

Ofloxacin …………………………………… 0.60 g
Dexamethasone phosphate …………. 0.10  g
Excipients qs ……………………………… 100   mL

Indications

For the treatment of inflammation, both associated and not associated to infection such as conjunctivitis, blepharitis, blepharoconjunctivitis and keratoconjunctivitis.

Ofloxacin offers control and prevention of infections caused by different bacteria, including: Gram-positive Bacteria: Staphylococcus aureus, Staphylococcus epidermidis, Staphylococcus pneumoniae. Gram-negative Bacteria: Enterobacter cloacae, Haemophilus influenzae, Proteus mirabilis, Pseudomonas aeruginosa, Serratia marcescens.

Package

Bottle containing 5 mL.
Registered in
Argentina
Bolivia
Colombia
Ecuador
Lebanon
Paraguay
Peru