Find what you are looking for


Need help?
Questions?
We will be glad to help you
Artrin
---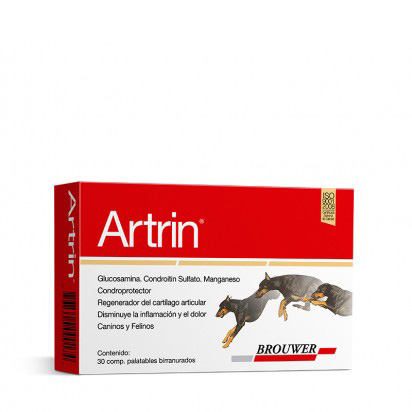 Description

Chondroprotective agent, joint cartilage regenerator. It relieves inflammation and pain.
For dogs and cats.
Palatable tablets.

Formula

Each tablet contains:

Glucosamine sulphate …………….. 500 mg
Chondroitin sulphate ………………. 100 mg
Manganese ………………………………. 10 mg
Excipients q.s. ……………………… 2000 mg

Indications

For the treatment of arthrosis (primary and secondary), arthritis, osteochondroarthrosis, spondylosis, ankylosing spondyloarthrosis, and degenerative joint and tendon processes.

Preventive therapy of hip dysplasia in puppies and coxal dysplasia types I and II.

Used as an initial treatment for intravertebral disk calcification. Therapeutic treatment for the repair of bone fractures.

It is indicated when joints must be immobilized due to bandages, surgery or other reasons. It is administered during and after immobilization, until the joint function is fully recovered.

Used in animals with joint tear and wear due to excessive exercise, overweight or old age.

Package

Package with 30 palatable tablets.
Registered in
Argentina
Bolivia
Brazil
Chile
Colombia
Costa Rica
Dominican Republic
Ecuador
El Salvador
Guatemala
Honduras
Lebanon
Mexico
Nicaragua
Panama
Paraguay
Peru
Uruguay
Venezuela