Find what you are looking for


Need help?
Questions?
We will be glad to help you
Dermomax
---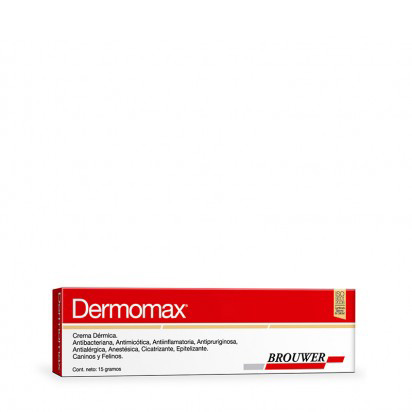 Description

Antibacterial, antifungal, anti-inflammatory, antipruritic, antiallergic, anesthetic, healing, epithelializing.
For dogs and cats.
Cream.

Formula

Each 100 g contains:

Gentamicin ………………………………………. 0.12 g
Clotrimazole ……………………………………….1      g
Betamethasone………………. ………………….0.12 g
Lidocaine …………………………………………..0.50 g
Vitamin A ………………………………………….0.06 g
Excipients q.s. ………………………………..100       g

Indications

For the treatment of dermatological lesions of various etiologies, including bacterial and fungal infections, traumatic lesions and lesions of allergic origin.

Applied to the skin it has:

• Strong antimicrobial activity, covering the most common bacterial and fungal spectrum in dog and cat dermatologic conditions.
•  Local Anti-inflammatory action, resolving processes in which inflammation plays a prominent role.
• Local anesthetic action, immediately calms itching and pain characteristic of these pathological conditions.
• Protective skin effect, stimulates epidermal regeneration and healing.

Package

Tubes containing 15 and 40 g.
Registered in
Argentina
Colombia
Guatemala
Lebanon
Paraguay
Peru