Find what you are looking for


Need help?
Questions?
We will be glad to help you
Meltra spot on
---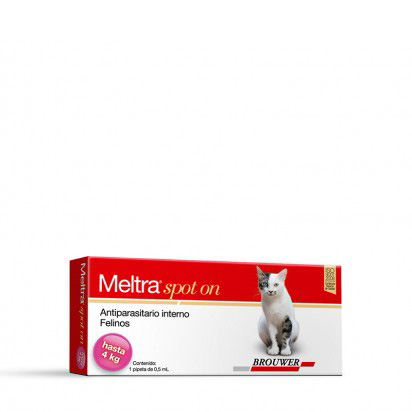 Description

Internal antiparasitic with spot on application for nematode and taenia.
For felines.
Spot-on pipette.

Formula

Every 100 mL contains:

Praziquantel ………………………………………. 9,6 g
Ivermectin ………………………………………… 0,8 g
Excipients q.s …………………………………. 100   ml

Indications

Treatment and control of the following parasites:

• Nematodes: Toxascaris leonina; Toxocara cati; Ancylostoma spp; Trichuris spp.

• Taenias: Echinococcus granulosus; Dipylidium caninum; Taenia hydatígena; Multiceps multiceps; Taenia serialis; Taenia ovis; Taenia taeniformis; Taenia pisciformis, Mesocestodes corti.

Package

Package with a pipette according animal weight:

Up to 4 kg.
From 4 to 8 kg.
Registered in
Argentina
Colombia
Costa Rica
Dominican Republic
Ecuador
Guatemala
Lebanon
Mexico
Nicaragua
Panama
Paraguay
Peru
Uruguay