Find what you are looking for


Need help?
Questions?
We will be glad to help you
Cetfur
---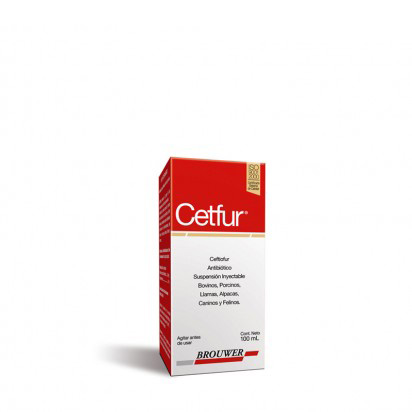 Description

Broad-spectrum antimicrobial.
For  cattle, pigs, dogs, cats, llamas and alpacas.
Sterile solution for injection.

Formula

Each mL contains:

Ceftiofur ………………….. 50 mg
Excipients q.s. ……………. 1 mL

Indications

For the treatment of infections caused by susceptible bacteria:

Cattle: Bovinerespiratory disease (BRD), shipping feverorbovine pneumonia, acute interdigitalnecrobacillosis (foot-rot).
Swine: Bacterialrespiratory illness.
Llamas and Alpacas: Respiratoryinfections, metritis, skin infections, mastitis. Pasteurellosis and other infections caused by sensitive bacterial agents.

Susceptible bacteria:

Cattle: Pasteurella multocida; Mannheimia haemolytica (Pasteurella haemolytica); Histophilus somni (Haemophilus somnus); Fusobacterium necrophorum; Bacteroides melaminogenicus.
Swine: Actinobacillus pleuropneumoniae; Pasteurella multocida; Salmonella choleraesuis; Streptococcus suis type 2.
Llamas and Alpacas: Actinomyces spp.; Pasteurella spp.

Package

Vial containing 100 mL.
Registered in
Argentina
Bolivia
Ecuador
Paraguay
Peru