Find what you are looking for
Need help?
Questions?
We will be glad to help you
Prius
---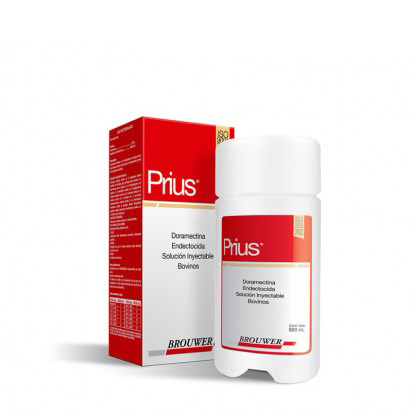 Description

External and internal antiparasitarian.
For cattle.
Sterile solution for injection.

Formula

Doramectin ……………………………………. 1 g
Excipientes c.s.p. ………………………… 100 mL

Indications

Gastrointestinal parasites: Ostertagia ostertagi: adults, L3, L4 (including inhibited states of Ostertagia spp); Ostertagia lyrata: adults and L4; Haemonchus placei: adults L3 and L4; Trichostrongylus axei: adults and L4; T. colubriformis: adults and L4; T. longispicularis; Cooperia oncophora: adults and L4; C. pectinata: adults, L4; C. puntacta: adults L4; C. surnabada (syn. C. mcmasteri); Oesophagostomum radiatum: adults, L3 and L4; Nematodirus helvetianus: adults; N. spathiger: adults; Strongyloides papillosus: adults; Bunostomum phlebotomum: adults, L3 and L4; Trichuris spp; Thelazia spp.

Pulmonary parasites:  Dictyocaulus viviparus: adult, L4, and inhibited states.

Ura (Torsalo, Nuche, Berne): Dermatobia hominis, Hypoderma bovis.

Lice: Linognathus vituli, Haematopinus eurysternus, Solenopotes capillatus.

Mite: Psoroptes ovis (sin. P. comunis variety bovis); Sarcoptes scabiei var. bovis. It helps to control Chorioptes bovis.

Myasis: Cochliomya hominivorax.

Package

Vial with 50 and 500 mL.
Registered in
Argentina
Bolivia
Colombia
Ecuador
Guatemala
Honduras
Lebanon
Nicaragua
Paraguay
Peru
Uruguay