Find what you are looking for


Need help?
Questions?
We will be glad to help you
Kil AG
---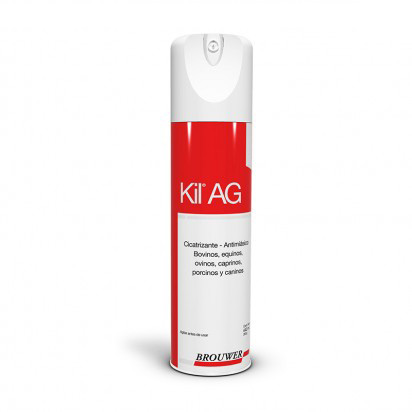 Description

Healing and prevention and treatment of myasis.
For cattle, horses, sheep, goats, swine and dogs.
Spray.

Formula

Chlorpyrifos ……………………………………………..2.0 g
Cypermethrin ……………………………………………0.4 g
Silver sulfadiazine …………………………………..…0.1 g
Micronized aluminum ………………………………..5   g
Excipients q.s ………………………………………….100  g

Indications

For the treatment and prevention of myiasis and skin wound infections in cattle, horses, sheep, goats, pigs and dogs.

It is an effective formula for the treatment of myiasis that are already installed and, due to its repellent power, it is useful for the prevention of myiasis in accidental or surgical wounds. In addition, it has antibacterial, astringent and hemostatic effects that stimulate healing.

Silver sulfadiazine has a broad spectrum of action that includes most of the banal bacterial saprophytic and pathogen flora that commonly affect wounds and cause skin infections (both Gram negative and Gram positive, some yeasts and fungi). Among other organisms, it is indicated for the treatment of infections caused by E. coli, Pseudomona spp., Proteus spp., Staphylococcus spp. (including penicillase + strains), Streptococcus spp. (including enterococci and diplococci), Klebsiella pneumoniae, Enterococcus faecalis, Candida albicans.

Chlorpyrifos and permethrin are external antiparasite drugs for the treatment of common skin myiasis caused by Musca spp, Stomoxys calcitrans, Callitroga hominivorax and other arthropod species that produce this type of pathology.

Micronized aluminum has a proven bacteriostatic effect and forms a protective film on the skin of treated animals.

Package

Aerosol containing 260 g (440 mL).
Registered in
Argentina
Bolivia
Ecuador
Guatemala
Honduras
Paraguay
Peru
Uruguay