Find what you are looking for


Need help?
Questions?
We will be glad to help you
Meltra Endectocide
---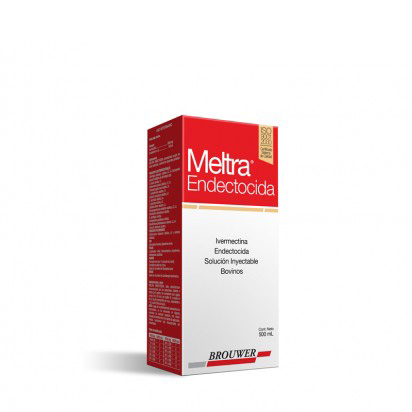 Description

External and internal antiparasite drug.
For cattle.
Sterile solution for injection.

Formula

Ivermectin ……………………………………………  1    g
Excipients q.s. …………………………………… 100  mL

Indications

Gastrointestinal parasites: Ostertagia ostertagi: adults, L3, L4 (including inhibited stages of Ostertagia spp), Ostertagia lyrata: adults and L4, Haemonchus placei: adults, L3 and L4, Trichostrongylus axei: adults and L4, T. colubriformis: adults and L4, Cooperia oncophora: adults and L4, C. puntacta: adults, L3 and L4, Oesophagostomum radiatum: adults, L3 and L4, Nematodirus helvetianus: adults, N. spathiger: adults, Strongyloides papillosus: adults, Bunostomum phlebotomum: adults, L3 and L4, Toxocara vitulorum: adults.

Lung Parasites: Dictyocaulus viviparus (adults, L4 and inhibited stages).

Scabies Mites: Psoroptes ovis (bovis variety), synonym: Psoroptes comunis var. bovis.

Lice: Linognathus vituli, Haematopinus eurysternus, Solenopotes capillatus.

Human bot fly: Dermatobia hominis, Hypoderma spp.

Myiasis: helps to control Cochliomya hominivorax.

Package

Vial containing 50 mL, 500 mL and 1 liter.
Registered in
Argentina
Bolivia
Costa Rica
Ecuador
Honduras
Lebanon
Mexico
Paraguay
Peru
Uruguay