Find what you are looking for


Need help?
Questions?
We will be glad to help you
Methiovertan
---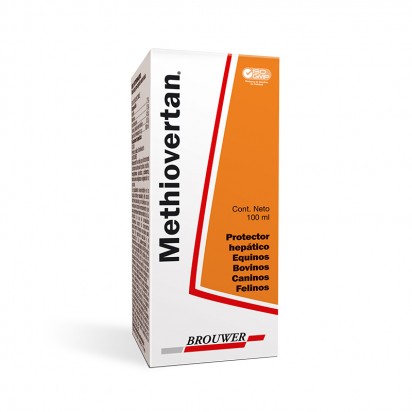 Description

Medication for the digestive system / hepatoprotective effect / Endogenous or exogenous toxicity.
For equines, cattle and canines.
Sterile solution for injection.

Formula

Sorbitol……………………………………….. 21.0 g
Methionine……………………………………. 1.5 g
Acetyl methionine………………………………. 4.5 g
Thiamine phosphate phosphoric ester………………….0.3 g
Excipients, q.s……………………….. 100.0 ml

Indications

To treat diseases of the hepatic pathways, hepatitis, paroxysmal hemoglobinuria, acetonemia, endogenous or exogenous toxicity.
It is especially recommended for myalgia (muscle pain) in horses used for sports caused by micro-injuries observed during training and caused by metabolic disorders.
Enhanced adaptation to the transition period between three weeks before and three weeks after parturition in dairy cows, with lower mobilization of body reserves.
It can be used as an adjuvant in dogs to treat liver conditions in muscle disorders due to fatigue and, in some cases, congestive heart failure (CHF) due to thiamine deficiency.

Package

Neutral caramel colored glass vial containing 100 ml.