Find what you are looking for
Need help?
Questions?
We will be glad to help you
Midribyl
---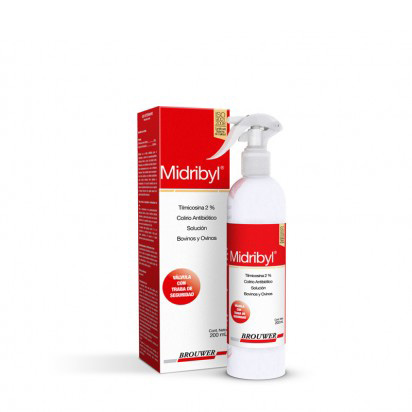 Description

Ophthalmologic infection preventive and healing treatment.
For cattle and sheep.
Sterile solution.

Formula

Tilmicosin phosphate …………………………….. 2 g
Hydrolyzed casein ………………………………… 2  g
Excipients q.s …………………………………… 100 mL

Indications

Treatment of infectious keratoconjunctivitis and other eye infections in cattle and sheep caused by the following microorganisms susceptible to Tilmicosin: Moraxella bovis, Pasteurella multocida , Mycoplasma bovoculi, Staphylococcus aureus, Mycoplasma dispar, Strepotococcus agalactiae, Chlamydia spp, Histophilus somni (Haemophilus somnus), Actinomyces pyogenes, Actinobacillus pleuropneumoniae,  Erysipelothrix rhusiopathiae, Mannheimia haemolytica, Clostridium perfringens , Fusobacterium necrophorum.

Package

200 mL bottle with dosing spray device.