Find what you are looking for


Need help?
Questions?
We will be glad to help you
Maxillia 500 Premix
---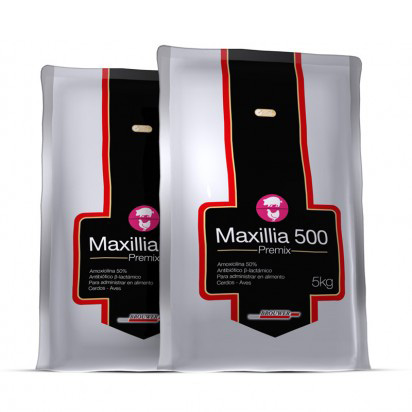 Description

Wide-spectrum antibiotic.
For poultry and swine.
Powder.

Formula

Contents every 100 g of product:

Amoxicillin ………………………………………….  50 g
Excipients q.s.. …………………………………… 100 g

Indications

Prescribed to treat: actinobacilosis, cystitis, dermatitis, tail necrosis, nephritis, omphalitis, MMA syndrome, synovitis by Staphilococcus spp, Hæmophilus parasuis, Pasteurella multocida, Streptococcus pneumoniae, Streptococcus suis, arthritis, colibacillosis, infectious coryza, infectious enteritis, chlostridial diseases, pasteurellosis, salmonellosis and other diseases caused by amoxicillin-sensitive microorganisms.

Package

Bags for 5 kg.
Registered in
Argentina
Guatemala
Paraguay