Find what you are looking for
Need help?
Questions?
We will be glad to help you
Meltra Horses
---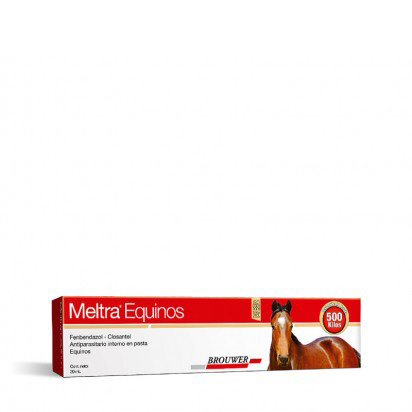 Description

Broad spectrum internal antiparasite.
For horses.
Paste.

Formula

Fenbendazole ……………………………………… 18.75 g
Closantel ……………………………………………. 18.75 g
Excipients q.s. ……………………………………… 100 mL

Indications

For the treatment and control mature and immature stages of the following parasites in horses: Parascaris equorum, Habronema sp, Oxyuris equi. Large migratory strongyles: Strongylus vulgaris, Strongylus equinus, Strongylus edentatus. Small non-migratory strongyles: Triodontophorus sp, Trichonema sp and juvenile forms of Gasterophilus nasalis and Gasterophilus intestinalis (bots).

Meltra is indicated for the prevention of verminous aneurysm caused by migratory larvae of Strongylus vulgaris.

Package

Disposable syringe containing 20 mL.
Registered in
Argentina
Bolivia
Chile
Costa Rica
Ecuador
Honduras
Nicaragua
Paraguay
Uruguay