Find what you are looking for


Need help?
Questions?
We will be glad to help you
Fluximin
---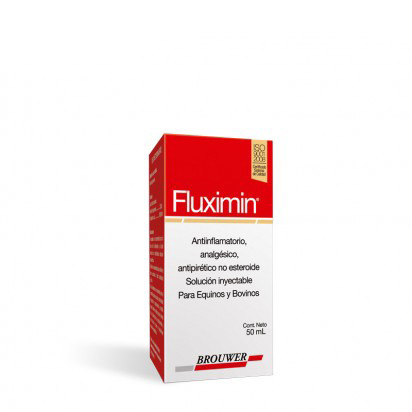 Description

Nonsteroid anti-inflammatory, analgesic and antipyretic.
For horses and cattle.
Sterile injectable solution.

Formula

Flunixin  …………………………. 5 g
Excipients …………………… 100 mL

Indications

In horses it is recommended for the relief of inflammation and pain associated with skeletal muscle disorders. It is also recommended for the relief of pain associated with abdominal pain (colics).

In cattle it is recommended for the control of pyrexia associated with respiratory disease, endotoxemia and acute mastitis. It is also indicated in the control of inflammation in endotoxemia and to relieve pain in skeletal muscle disorders.

Package

Bottle containing 50 mL.
Registered in
Argentina
Colombia
Paraguay