Find what you are looking for


Need help?
Questions?
We will be glad to help you
Flormicetina
---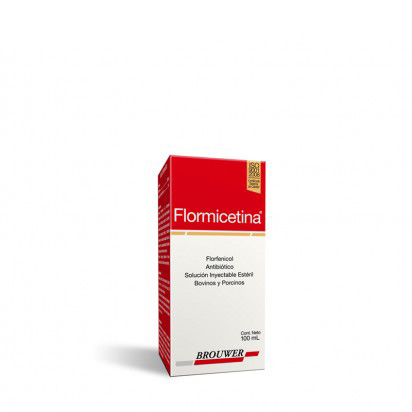 Description

Broad-spectrum antibiotic.
For cattle and swine.
Sterile solution for injection.

Formula

Florfenicol …………………………………300 mg
Excipients q.s. ………………………………..1 mL

Indications

Cattle: for treatment of bovine respiratory disease (BRD), also called shipping fever, associated with bacteria susceptible to florfenicol.
Treatment of respiratory tract infections due to Pasteurella haemlitica and Pasteurella multocida. Diarrhea in calves. Foot-rot. Keratoconjunctivitis. Genital tract infections. General infections caused by susceptible bacteria:   Gram-positive bacteria: Corynebacterium pyogenes, Staphylococcus sp, Clostridium sp., Streptococcus agallactiae, Streptococcus dysgallactiae, Streptococcus uberis, Streptococcus bovis, Streptococcus zooepidermicus, Streptococcus aureus, Streptococcus intermedius, Streptococcus epidermidis.
Gram negative bacteria: Escherichia coli, Pasteurella haemolitica, Pasteurella multocida, Haemophillus somnus, Actinobacillus pleuropeumoniae, Salmonella sp, Moraxella sp., Klebsiella sp., Treponema hyodisenteriae, Enterococcus sp., Shigella sp., Bacteroides sp., Bordetella bronchiseptica, Proteus sp., Haemophilus influenzae, Neisseria sp.

Swine: Porcine Respiratory Disease Complex. Bacterial pneumonia. Respiratory infections. Infections caused by Actinobacillus pleuropneumoniae, Pasteurella multocida, Micoplasma hyopneumoniae.

Package

Vial containing 100 mL.
Registered in
Argentina
Bolivia
Dominican Republic
Ecuador
Paraguay
Peru